SaaS Escrow Services
SaaS escrow services provide companies with increased efficiency and flexibility. Along with the benefits of SaaS applications come risks. In most situations, the SaaS vendor maintains control over your data.
What would happen if your SaaS vendor ceases operation?
Do you have access to your data?
How would you be able to continue working if they aren't around anymore?
These are critical questions that must be asked when implementing a SaaS solution in any company.
The Escrow London SaaS Escrow service was developed to protect clients of cloud based applications. The SaaS escrow agreement provides a simple and cost effective way to ensure the source code, application, runtime/VM and actual data is protected in the event of a failure of your cloud service / SaaS vendor.
         Supported Platforms
Protecting Hosted Data 24/7
When you transfer your critical data to a SaaS vendor, you want to be sure that in the event of a major technical failure or they cease operations you have access to your data. Simply relying on their backup is not good enough to provide full business continuity.
To ensure complete continuity, SaaS Escrow ensures the deposit of 3 vital components:
Source code of the application
An image of the runtime environment/VM
Up to date backup of the hosted data
We provide solutions for the following platforms:
AWS – EC2
Azure
Google Cloud
Heroku
VM Ware
Hyper-V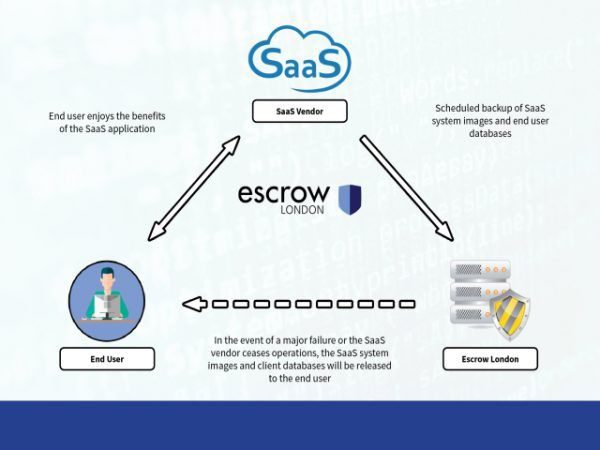 SaaS Financial Alerts
The first indication of financial issues within a business is the failure to keep up with supplier payments.
Escrow London provides a financial monitoring service that will provide the beneficiary with a pre-emptive alert if there appears to be payment irregularities with their SaaS vendor.
How this works
On a regular basis, your SaaS vendor will be paying subscription and hosting fees for critical third-party services. Under the SaaS Financial Alerts service, Escrow London will monitor those payments both automatically and manually to ensure that all payments are made on time to the registered critical suppliers. Should a Financial Event of Default be invoked by the beneficiary as specified in the SaaS Escrow Agreement, Escrow London will have the authorisation and rights to pay the vendor invoice(s) on behalf of the beneficiary. This process will ensure a short term 'lights on' solution until business continuity or disaster recovery decisions are made.
As part of the SaaS Escrow service, Escrow London will assist in determining the best approach for business continuity depending on the complexity of the SaaS vendors application/s and environment/s.
Under the Escrow London approach, this may include:
Activation of the dormant virtual environment hosted by Escrow London.
Deployment of the latest database from the Escrow London repo to the hosted application.
Transfer of the database to a new SaaS vendor.
Rebuild of the source code from the most recent deposit (this can be as recent as the day of the financial default if the automated Git deposit service is used). This may then be used to recreate a local environment to deploy the application and database.
Escrow London prides itself on providing a range of cost effective, innovative and bespoke solutions depending on individual client requirements. We have a pragmatic approach and the ability and experience to think 'outside the box' when it comes to SaaS business continuity solutions.
Service Options

SaaS 1
SaaS 2
SaaS 3
Source Code
Source Code and documentation of the SaaS application stored with Escrow London.

Runtime Environment
System image of the runtime environment.

Automatic GitHub Deposits (optional)
Automatic deposit of source code directly from the developers Git repository.

SaaS Financial Alerts (optional)
Financila monitoring service to ensure payments by the SaaS vendor to critical third party services are up to date.

Database Replication
Automatic scheduled copy of the database and other related data to the Escrow London secured servers.
Verification
SaaS verification is used to ensure that the SaaS platform can be recreated on a clean environment. This includes a database functionality test ensuring the database can be deployed to the rebuilt system.

Database Functionality Tests
The database functionality tests allows for the periodic verification that the database updates are usable.

Dormant System
A dormant system is maintained by Escrow London. In the event of a release, the most recent database is deployed and the server is switched to a live state. This option provides application business continuity.

Please contact us below for an accurate proposal.