SaaS Escrow Services
SaaS Escrow Services 
SaaS escrow services provide companies with increased efficiency and flexibility. Along with the benefits of SaaS applications come risks. In most situations, the SaaS vendor maintains control over your data.
What would happen if your SaaS vendor ceases operation?
Do you have access to your data?
How would you be able to continue working if they aren't around anymore?
These are critical questions that must be asked when implementing a SaaS solution in any company.
The Escrow London SaaS Escrow service was developed to protect clients of cloud based applications. The SaaS escrow agreement provides a simple and cost effective way to ensure the source code, application, runtime/VM and actual data is protected in the event of a failure of your cloud service / SaaS vendor.
         Supported Platforms
Protecting Hosted Data 24/7
When you transfer your critical data to a SaaS vendor, you want to be sure that in the event of a major technical failure or they cease operations you have access to your data. Simply relying on their backup is not good enough to provide full business continuity.
To ensure complete continuity, SaaS Escrow ensures the deposit of 3 vital components:
Source code of the application
An image of the runtime environment/VM
Up to date backup of the hosted data
We provide solutions for the following platforms:
AWS – EC2
Azure
Google Cloud
Heroku
VM Ware
Hyper-V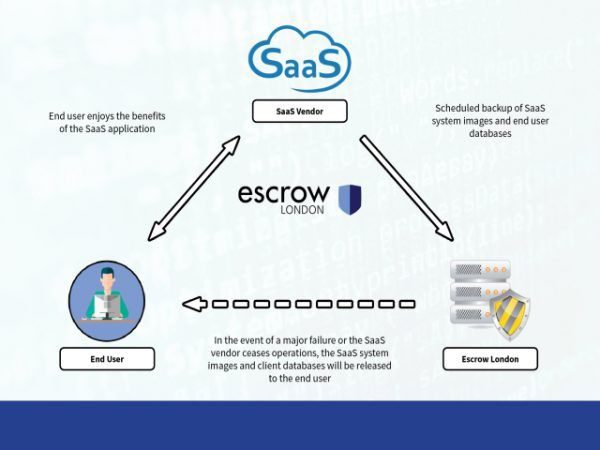 Service Options

SaaS Basic
SaaS Power
SaaS Pro
Source Code
Source Code and documentation of the SaaS application stored with Escrow London.

Runtime Environment
System image of the runtime environment.

Data Replication
Automatic scheduled copy of the database and other related data to the Escrow London secured servers. The data replication is encrypted on the vendor site before transfer.

Verification
SaaS verification is used to ensure that the SaaS platform can be recreated on a clean environment. This includes a database functionality test ensuring the database can be connected to the rebuilt system.

Database Functionality Tests
The database functionality tests allows for the periodic verification that the database updates are usable.

Dormant System
A dormant system is maintained by Escrow London. In the event of a release, the most recent database is connected and the server is switched to a live state. This option provides application continuity.

Please contact us below for an accurate proposal.